Tag "Ukraine"
from 1 to 3 - Total: 3
Press releases 31 March 2022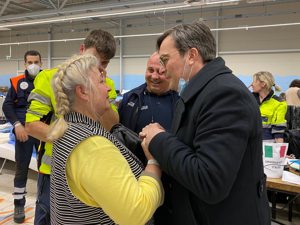 "Two intense days on the Polish-Ukrainian border, where I experienced first-hand solidarity with Ukrainian refugees. I had the opportunity to express our support to the Polish government for this extraordinary reception effort and honour the strong commitment of the Italians operating here" Undersecretary Amendola declared upon conclusion of his institutional visit to Poland.
Press releases 23 March 2022
"The EU is coping with the consequences of the conflict cohesively. Common defence and energy union are priority objectives", Undersecretary Amendola highlighted ahead of the European Council of 24 and 25 March. "The Italian government will go to Brussels with a strong mandate from Parliament at a crucial time for Europe and beyond".
Go back to start