17 May 2022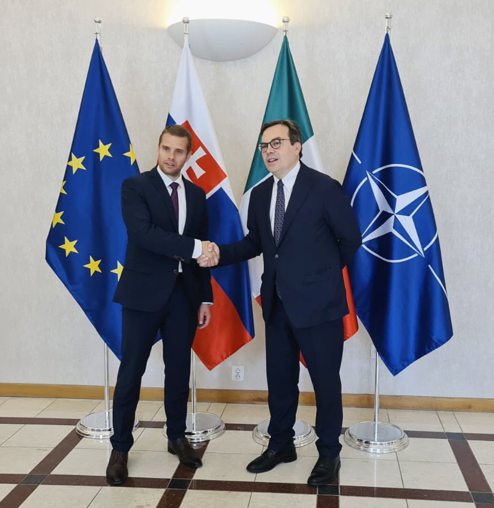 The institutional visit of the Undersecretary for European Affairs, Vincenzo Amendola, to Austria and Slovakia ended in Bratislava. "In this land on the border with Ukraine, I was able to experience first-hand the solidarity and welcome to refugees fleeing the nearby war. Through dialogue, I hope for shared solutions on the major European dossiers," he stated, accompanied by the Italian Ambassador in Bratislava, Catherine Flumiani.
During the working session that took place in the morning in the government building, there was a greeting with Prime Minister Eduard Heger and a meeting with his 'EU Sherpa', Lubica Karvasova.
Undersecretary Amendola then travelled with his counterpart Martin Klus to a reception centre set up for people fleeing the conflict. With Secretary of State Klus (pictured) it was also an opportunity to share a follow-up on the main topics in the run-up to the European Council on 30-31 May and the EU response to the Russian aggression in Ukraine. The topics addressed included EU enlargement, the rule of law, migration, new economic governance and the energy issue, Rome Expo 2030, the National Recovery and Resilience Plan, and Nutriscore.
Undersecretary Amendola then went to the Slovak National Council where he met the Chairwoman of Slovak parliamentary committee for European Affairs, Vladimira Marcinkova, and some Members of the Parliament including Richard Nemec, President of the Slovak-Italian Friendship Group of the Council. With them Undersecretary Amendola took stock of the situation in view of the forthcoming European Council in Brussels.