È possibile navigare le slide utilizzando i tasti freccia
News
The first Council of Ministers of the new Government headed by Giorgia Meloni was held; the mandates to the ministers without portfolio were assigned. The mandate for European Affairs, Cohesion Policy and the National Recovery and Resilience Plan was bestowed on Raffaele Fitto.
23 October 2022
News
The 33rd Annual Report on the protection of the European Union's financial interests and the fight against fraud shows that in 2021 the number of frauds and irregularities reported by EU and national authorities remained stable compared to the previous year, while the involved amounts increased. The document pays key attention to the Recovery and Resilience Facility (RRF). Italy's fruitful cooperation with the European institutions is reaffirmed.
18 October 2022
Publications
Le Rapport rassemble les résultats du débat national sur la Conférence sur l'avenir de l'Europe et présente les événements, les initiatives et les activités promus par le Gouvernement italien qui ont vu la participation qualifiée des institutions, des universités, des autorités locales, des associations, des jeunes universitaires, des étudiants, des citoyens et de la société civile.
15 June 2022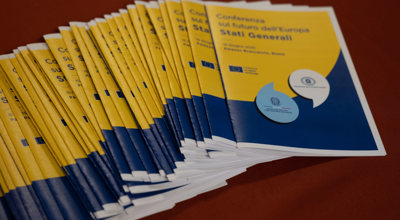 Publications
16 June 2022
Go back to start