10 March 2021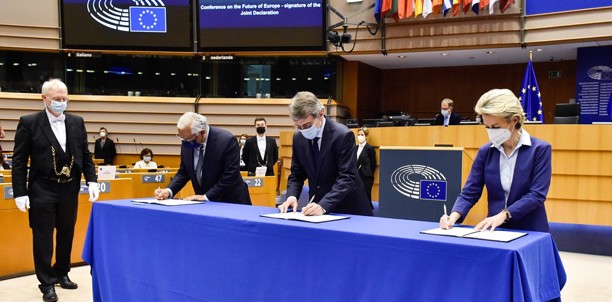 European Parliament President David Sassoli, Portuguese Prime Minister Antonio Costa, on behalf of the Council Presidency, and European Commission President Ursula von der Leyen signed the joint declaration on the Conference on the Future of Europe.
The act marks the start of the process that enables citizens to participate in the redefinition of the European Union's policies and institutions. The three political leaders were present at the European Parliament.
The Conference on the Future of Europe – a note states – aims to give citizens a stronger role in defining EU policies and ambitions, improving the Union's resilience to crises, both economic and health-related. The Conference will provide a new public meeting space for an open, inclusive, transparent and structured debate with European citizens on issues that concern them and affect their daily lives.
The Joint Declaration presents a non-exhaustive list of possible topics for the Conference: health, climate change, social equity, digital transformation, the role of the EU in the world, and strengthening the democratic governance of the European Union.
These themes coincide with the overall priorities of the Union and the issues raised by citizens in opinion polls. Ultimately, participants will decide the topics to addressed by the Conference, which is led by the three leading institutions represented by their respective presidents as joint chairs.
Conference on the Future of Europe