Luciano Barra Caracciolo is State Secretary to EU Policies under the cabinet of Italian Prime Minister Giuseppe Conte since 12 June 2018.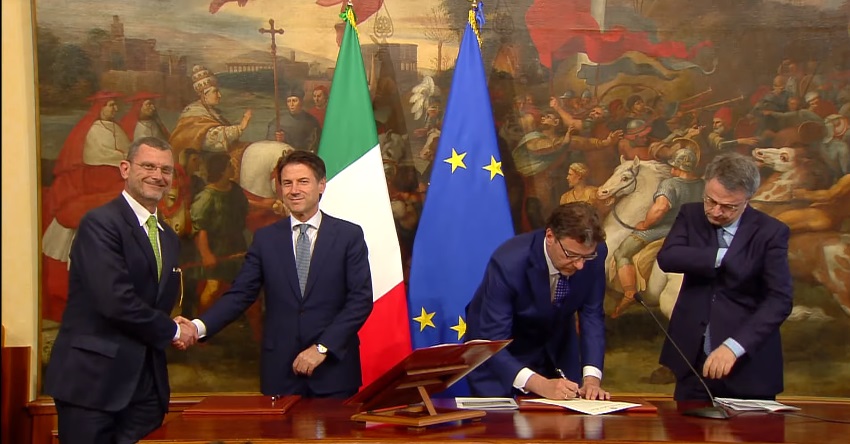 Born in Rome on 1 September 1959.
Scientific high school diploma in 1977 with maximum score (60/60)
Graduated in Law from Rome University La Sapienza in March 1982 with maximum score (110/110) " cum laude" - thesis in administrative law (advisor professor Mario Nigro)
Military service as a junior officer in the financial police (Guardia di Finanza) (1982-1983)
Professional titles and public competitions
President of Section of the Council of State, since December 2010, he has succeeded in several public competitions:
State Counselor in 1993;
Referendary (junior judge) of the Regional Administrative Court in 1989;
Junior ordinary judge in 1985;
Administrative officer at the Ministry of Transport in 1985;
Legal practitioner in 1984.
Twice elected to the Council of Administrative Justice, as judge of  the Regional Administrative Court  (1992-1993) and as judge of the Council of State (2009-2014).
Experiences abroad
Obtained a scholarship by the National Research Council (CNR) to conduct comparative studies in administrative law at the University of Illinois at Urbana Champaign (1984).
Visiting Professor at the University of California, Los Angeles (UCLA) in 1996, he has carried out studies on the US administrative law with particular regard to the structure and functions of the neutral administration and regulatory agencies.
Representative of the Council of Administrative Justice at the European Network of Councils for the Judiciary, he participates in the plenary sessions.
Government career 
Legal advisor at the  Civil Service Department 's legal office (in 1994 and 1995).
Head of Cabinet of the Minister for Italians in the world, between 1994 and 1995.
Member of the Committee on the reorganization of regulatory agencies under appointment of the Minister of Public Administration, in 1997.
Off-role expert at the Presidency of the Council of Ministers'  Task force for the simplification of administrative and regulatory activity from 1999 to 2001.
Deputy Secretary General at the Presidency of the Council of Ministers from May 2001 to March 2005.
Member of the Presidency of the Council of Ministers' Committee for the evaluation and control on public investment (and assessment of the regulatory impact - AIR) from 2010 to 2014.
 Publications
He is the author of number of books and scientific publications:
Monographs
"Funzione amministrativa e amministrazione neutrale nell'ordinamento USA – profili comparativi" (1997)
"Euro e/o democrazia costituzionale" (2013)
"La Costituzione nella palude- Indagine su Trattati al di sotto di ogni sospetto"
Contributions to Monographs
"I controlli amministrativi esterni e le Autorità indipendenti" (1997)
"Nuova giurisdizione del giudice amministrativo" (1999)
"Il procedimento davanti alle Autorità indipendenti" (1999)
"Evoluzione del ruolo di coordinamento della Presidenza del Consiglio dei ministri" (contributo nell'ambito della monografia pubblicata dall'Associazione per gli studi e le ricerche parlamentari) (2003)
"Autorità amministrative indipendenti e sistema giuridico-istituzionale"
Articles for scientific journals
for the review "Giustamm"
Il punto di «non ritorno» nella tutela della Costituzione nella riflessione di Vincenzo Caianiello.
Euro, potere costituente e democrazia.
I tagli ai costi della politica.
Un approccio radicale di revisione costituzionale
L'azione risarcitoria autonoma: una costruzione senza riscontro positivo ed il wishful thinking delle Sezioni Unite
L'Europa alla prova dell'euro: bilancio pubblico, deficit e dinamiche del Pil
Società a partecipazione pubblica e correlazioni con le dinamiche del bilancio pubblico
Area euro, mercantilismo e violazioni del Trattato
L'AIR dalle sue origini all'introduzione nell'ordinamento italiano
Ragionevolezza, attendibilità e sindacato costituzionale sulla normativa in materia economica
Crisi del debito sovrano, esiti recessivi e vie d'uscita
Imposta patrimoniale redistributiva della fiscalità "di sistema". Interventi di sviluppo complementari agli effetti antievasione della nuova imposizione
Riflessioni sulla «Unione bancaria» tra principi costituzionali inviolabili e ordoliberismo finanziario
Il giudice amministrativo "colpevole" di recessione e incertezza del diritto?
for the website of the Council of State' s research office
Profili di illegittimità costituzionale della c.d. "unione bancaria" e del "bail-in" nel quadro della moneta unica (2016)
Il problema del saldo target-2: come adempiere in corretto intendimento dell'operazione di conversione (2017)on
for Asimmetrie.org
UK, Italia e la sovranità: la sua ragion d'essere e le gerarchie internazionali (2016)
Golden rule e asimmetria nell'applicazione delle regole europee (2014)